Duncans receive VCCS philanthropy award
May 14 2014
This is an archived article!
This article was published on May 14 2014 and was archived on May 15 2015. The information below may be outdated or inaccurate.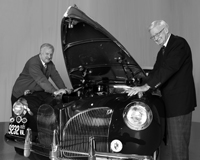 Paul Duncan, of Christiansburg, and Gary Duncan, of Salem, have earned the 2014 Chancellor's Award for Leadership in Philanthropy. They were nominated for the award by New River Community College (NRCC). The award was given at a luncheon ceremony at the Country Club of Virginia last month and attended by representatives from Virginia's 23 community colleges and their Chancellor's Award recipients.
The father and son team have long been friends of NRCC and most recently donated a parcel of land near the college's Dublin campus to the NRCC Educational Foundation, Inc.
With over 100 years in the automobile industry between them, Paul and Gary Duncan's successful working relationship in the Duncan Automotive Network has branded their name with friendship, trust and excellence in the New River Valley.
Living their "brand" every day, the father and son have turned customers into treasured friends over the years, and employees into members of their family.
Duncan passed along a great work ethic to his children. His philosophy is pretty simple he says, "You just work a half a day six days a week." Then with some merriment in his voice, he added, "Well, you know… a half a day, that's 12 hours." That simple maxim stems from religious teachings in Sunday School in his youth he says, "You work for six days and rest on Sundays."
Just as it was 40 years ago when Gary was a community college student, the affordability of a community college education still appeals to him. And, he hopes his family's support of NRCC will help build the automotive program. "The community college is important," he adds stating that the automotive industry needs fewer mechanics and more technicians.
His father echoes the sentiment, "I think the community college is an ideal place to give people a start. It's a place of opportunity."
The Chancellor's Award for Leadership in Philanthropy luncheon is hosted by the Virginia Foundation for Community College Education (VFCCE) to honor the leading philanthropists from each of Virginia's 23 community colleges as well as the statewide foundation. This marks the ninth year the awards have been given.
This year's class of distinguished philanthropy leaders has contributed a combined total of more than $12 million dollars to Virginia's Community Colleges.
In keynote remarks, Virginia Business Higher Education Council Chair W. Heywood Fralin said, "Many believe, including myself, that the community college will be the centerpiece of economic development in each region of the commonwealth for the next several decades…..All philanthropists are interested in their local communities, and I would argue that in today's world, the local community college should be considered a top priority for philanthropic dollars. Where it happens, regions will thrive, and where it doesn't, they will struggle."
VCCS Chancellor Glenn DuBois said that the generosity of the two dozen philanthropy leaders makes a critical difference in the lives of students and their families as well as in the economic vitality of the commonwealth. "They believe in the knowledge and skills that Virginia's Community Colleges offer to every Virginian. We thank them deeply for the partnerships that demonstrate the art of giving."