NRCC SGA donates $1,400 to Counseling Center
May 12 2014
This is an archived article!
This article was published on May 12 2014 and was archived on May 13 2015. The information below may be outdated or inaccurate.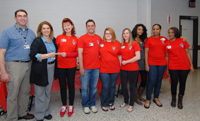 The NRCC Student Government Association recently donated $1,400 to the college's counseling center to assist in expanding career information and job search options for students. The funds will aid in the purchase of "The Career Key," a licensed program which gives help with career choices - career changes, career planning, job skills and choosing a college major or educational program. SGA members presented the check to Peggy Dunn before a group of faculty, staff and students.