NRCC hires new dean of arts and sciences
May 01 2014
This is an archived article!
This article was published on May 01 2014 and was archived on May 02 2015. The information below may be outdated or inaccurate.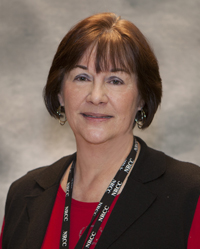 New River Community College is welcoming one of its long-time professors to a new role as dean of arts and sciences. Dr. Janice Shelton, of Christiansburg, recently accepted the position after serving as interim dean of arts and sciences since the retirement of previous dean, Carol Hurst, last August.
Shelton began her tenure at NRCC as an adjunct English instructor in 2002. In 2004, she became a full-time faculty member teaching English and communication classes. She would later become the English department head.
Prior to her time at NRCC, she taught middle and high school English and spent nine years as a middle school principal in the Roanoke area. Shelton acknowledges that there will be challenges to moving into the administrative side of education at NRCC, but says she will "strive to remember what it's like to be on all sides of the desk - as a student, a faculty member and an administrator."
Shelton says that while she will miss the classroom, she's excited about taking on her new role. "I'm looking forward to working with all the faculty in the arts and sciences division," she says. "I'm learning a lot about our various disciplines and seeing a lot of new sides of teaching." She says she's also looking forward to working on several special projects including advancing the college's open educational resource system, OTIS.
She sums everything up by saying simply, "I love what I do and I love being here."