NRCC honor society chapter receives regional awards
Apr 28 2014
This is an archived article!
This article was published on Apr 28 2014 and was archived on Apr 29 2015. The information below may be outdated or inaccurate.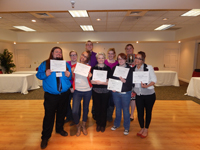 New River Community College's chapter of the Phi Theta Kappa Honor Society received several awards at the recent Virginia/West Virginia Regional Convention in Lewisburg, W.Wa.
The Omega Eta chapter took first place in the "Communications" area for efforts in communicating information from PTK headquarters to chapter members and college faculty and staff. NRCC took second place in the "College Project" area for hosting an annual faculty and staff appreciation brunch at the college since 2005. NRCC also received a "Distinguished Chapter" award.
Omega Eta member Reuben Miller of Pearisburg received a "Distinguished Chapter Member" award for his work ethic and outstanding academic performance. He was nominated by chapter advisor, Brian Clark. Clark, assistant professor of health/physical education and biology, was also recognized with a "Horizon Award" for his distinguished service as an advisor.
Phi Theta Kappa International Honor Society is the official honor society for two-year colleges and the largest honor society in America. To be eligible for membership, students must have completed at least 12 hours of coursework that may be applied to an associate degree program and have a grade point average of at least 3.5.