NRCC Phi Beta Lambda members win state awards
Apr 14 2014
This is an archived article!
This article was published on Apr 14 2014 and was archived on Apr 15 2015. The information below may be outdated or inaccurate.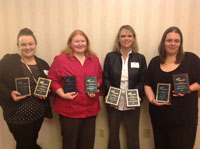 Five members of New River Community College's Phi Beta Lambda chapter took home awards at the recent PBL State Leadership Conference in Richmond.
The award recipients are:
Amanda-Jeanne Cooper, of Pulaski - 1st place, Job Interview Kellie Fore, of Dublin -- 1st place, Management Concepts Kaitlyn Hagreen, of Blacksburg -- 1st place, Computer Applications and 1st place, Word Processing Emily Jessee, of Radford -- 1st place, Client Service and 2nd place, Project Management Cindy McPeak, of Dublin -- 2nd place, Marketing Concepts and 3rd place, Organizational Behavior and Leadership
The students competed against others from seven universities and two community colleges and are now eligible to compete at the National Leadership Conference in Nashville, Tenn. in June. Future Business Leaders of America-Phi Beta Lambda is a non-profit education association that helps prepare students for careers in business and business-related fields.