Truegrass, Zephyr Lightning Bolts to perform at April NRCC bluegrass jamboree
Mar 21 2014
This is an archived article!
This article was published on Mar 21 2014 and was archived on Mar 22 2015. The information below may be outdated or inaccurate.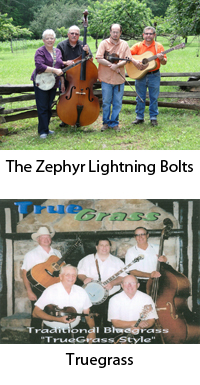 The music of Truegrass and the Zephyr Lightning Bolts will be featured during New River Community College's Fiddle, Banjo and Dance Club Jamboree of the season on Saturday, April 12. The music will begin at 6 p.m. in Edwards Hall, room 117, at NRCC in Dublin.
Truegrass is a bluegrass band that formed in early 2004. They perform traditional bluegrass music that ranges from hard-driving and energetic to slow ballads and gospel tunes. The band has performed throughout southwest Virginia as well as east Tennessee, North Carolina and Maryland. They have released bluegrass and bluegrass gospel CDs. The band's current members are Emory Parks, guitar/lead vocals; Jack Wells, mandolin/vocals; Wayne Thomas, banjo/vocal harmony; Paul Catron, fiddle/vocals; and Freel Taylor, bass fiddle/vocal harmony.
The Zephyr Lightning Bolts is an old time band from the Wilkes and Surry County areas of North Carolina. The band has made eight recordings and plays for square dances, festivals and other local events. Their musical selections include music for flat footing, ballads for waltzes, jigs and reels for square dances and old gospel songs. Band members are Steve Bowen on bass and vocals, Diane Bowen on banjo and vocals, Jacob Bowen on fiddle and vocals, and Sean Jarman on guitar.
Corporate sponsors of the jamborees include CVS Pharmacy, Dublin; Estes Auto and Truck Parts Inc., Pilot; King's Tire Service, Pulaski; Pepsi Cola Bottling Co.; Pulaski County Patriot, Pulaski; Shoney's Restaurant, Dublin; Southern Furniture Warehouse, Radford; Trader's Emporium & Estate Jewelry Services, Dublin; Dublin VFW Post 1184, Pulaski; Ladies Auxiliary to VFW Post 1184; Wade's Supermarket, Dublin; and NASH 107.1 FM.
The doors open at 5 p.m. for the show. There is no charge for admission; however, donations will be accepted to help pay travel expenses for the musicians. The jamborees are held the second Saturday of each month through April at NRCC, a Crooked Road affiliated venue.
More information about the NRCC Fiddle, Banjo, and Dance Club is available from Roger Adkins at 674-3600, ext. 4307, and online at http://www.nr.edu/fiddle .