New art show opens in NRCC gallery
Feb 28 2014
This is an archived article!
This article was published on Feb 28 2014 and was archived on Feb 28 2015. The information below may be outdated or inaccurate.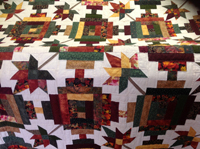 A quilt-focused art show by Marjorie Martin is on display in the New River Community College art gallery in Godbey Hall in Dublin. The show will run through May 15.
Martin is a mother and grandmother from Dublin who began quilting in 2004. She makes quilts, table runners, wall hangings, hand bags, pin cushions, pot holders and quilted Christmas balls. She quilts for both herself and others and believes that "quilting is more of an art than just keeping you warm."
Martin works as a life coach and support specialist for the Office of Transitional Programs at NRCC's New River Valley Mall site in Christiansburg.
A meet-the-artist reception will be held on Friday, March 28, at noon in the gallery.
The NRCC art gallery is open on Mondays and Wednesdays from 9 a.m. to 3 p.m., Tuesdays and Thursdays from 1 p.m. to 5 p.m. and Fridays from 9 a.m. to 1 p.m.