NRCC music professor receives State Council of Higher Education Outstanding Faculty Award
Jan 23 2014
This is an archived article!
This article was published on Jan 23 2014 and was archived on Jan 24 2015. The information below may be outdated or inaccurate.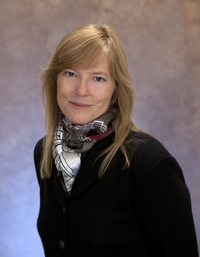 It has been a banner academic year for New River Community College associate professor of music, Dr. Louise Billaud.
In November of 2013, Billaud completed a Doctor of Musical Arts degree at Boston University by defending her dissertation "The Case of the Highlands Community Band: Structuration, Self-Determination, and the Promotion of Participation Beyond the Classroom."
While receiving her doctoral degree is in itself an achievement, Billaud's dissertation was also recently honored by the National Association for Music Education (NAfME). The group has given Billaud's work the Adult and Community Music Education Special Research Interest Group's 2014 Outstanding Dissertation Award. She will travel to NAfME's national research meeting in St. Louis, Missouri, in April to accept the award.
With doctoral degree and award-winning dissertation in hand, Billaud's 2014 was already off to a memorable start, but she soon discovered it was about to get even better. The State Council of Higher Education for Virginia has announced that Billaud has received the Outstanding Faculty Award for 2014.
The Outstanding Faculty Awards (OFA) are the Commonwealth's highest honor for faculty at Virginia's public and private colleges and universities. These awards recognize superior accomplishments in teaching, research and public service. Among professors from Virginia four-year colleges and universities also named for receiving the award, she was the only recipient from the Virginia Community College System. The OFA awards ceremony will be held in Richmond on February 20. Prior to the event, the 12 recipients will receive an honorary introduction on the floor of the General Assembly.
Billaud says she's honored to receive such an award and is quick to acknowledge the NRCC faculty who nominated her. "There are a lot of wonderful faculty members at NRCC, many deserving of such an award," she says. "I'm just pleased that I'm able to represent the college and represent them."
Having taught music at NRCC for more than 10 years, she is lauded by students and colleagues alike for her passion for teaching and ability to open up the world of music to others. Dr. Jack Lewis, NRCC's president, has high praise for Billaud, "My own admiration for Louise is not only for her talent and credentials, but for her greatest attributes: her love of teaching and her love of the community college. We continue to appreciate her passion for her work here and the inspiration she gives to students in the arts."
Admired for her teaching, Billaud is also well-known for her talents as a professional musician. A classical pianist trained in the United States and France, she has performed in concert halls throughout the United States and Europe, gathering national and international awards and honors along the way. Having stepped away from the piano to focus on completing her doctoral research, Billaud says her big goal this year is to be back at the piano practicing and preparing to give concerts again. "It's like being away from a sport for a while," she says. "There's a lot of physical and mental preparation involved in getting back into it."
With a year ahead that includes being in front of the classroom and back behind the piano, Billaud's schedule won't be slowing down. But, as interim dean of arts and sciences Dr. Janice Shelton notes, a brief pause for recognition is merited. "Louise deserves to be recognized in this manner for her outstanding work as a musician, faculty member and model for students," she says.
Billaud lives in Dublin, with husband Jean-Paul Billaud. They have a son Kéran, who is in graduate school at the University of Florida.