Bluegrass Kinsmen and Slate Mountain Ramblers to perform at NRCC Jan. 11
Dec 16 2013
This is an archived article!
This article was published on Dec 16 2013 and was archived on Dec 17 2014. The information below may be outdated or inaccurate.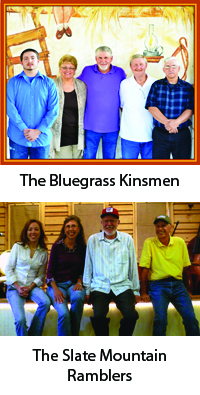 New River Community College will host The Bluegrass Kinsmen and the Slate Mountain Ramblers for the college's Fiddle, Banjo and Dance Club Jamboree on Saturday, January 11. The show will begin at 6:00 p.m. in Edwards Hall at NRCC in Dublin.
The Bluegrass Kinsmen band has existed since August, 1971. The Kinsmen recorded two albums on The Old Homestead label in Brighton, Michigan in 1978. They later recorded two more albums in the early '90s on a local label, The Big Wheel. Current band members include Ebby Jewell, Tom Short, Teresa Jewell, Ervin Compton, Ricky Kennedy and Ryan Lester.The Slate Mountain Ramblers band is a family old-time group from Ararat, Va. The members are Richard Bowman on fiddle, his wife Barbara on bass, and their daughter Marsha Bowman Todd on banjo. They are joined by Ted Ashe of Mt. Airy, N.C., on guitar. The band has a winning tradition, placing at various fiddlers' conventions and the group has traveled as far as Gainsborough, England to perform. '
Corporate sponsors of the jamborees include CVS Pharmacy, Dublin; Estes, Pulaski; King's Tire Service, Pulaski; Pepsi Cola Bottling Co.; Pulaski County Patriot, Pulaski; Shoney's Restaurant, Dublin; Southern Furniture Warehouse, Radford; Trader's Emporium & Estate Jewelry Services, Dublin; Dublin VFW Post 1184, Pulaski; Ladies Auxiliary to VFW Post 1184; Wade's Supermarket, Dublin; and WPSK Radio.
The doors open at 5 p.m. for the show. There is no charge for admission; however, donations will be accepted to help pay travel expenses for the musicians. The jamborees are held the second Saturday of each month through April at NRCC, a Crooked Road affiliated venue.
More information about the NRCC Fiddle, Banjo, and Dance Club is available from Roger Adkins at 674-3600, ext. 4307, and online at http://www.nr.edu/fiddle .