NRCC student honored at VCCS ceremony in Richmond
Dec 02 2013
This is an archived article!
This article was published on Dec 02 2013 and was archived on Dec 03 2014. The information below may be outdated or inaccurate.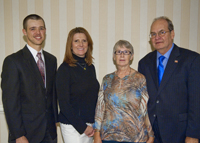 New River Community College student Dustin Dishon was among 53 scholarship students honored by the Virginia Community College System at a recent ceremony in Richmond. Dishon was recognized as this year's Cheryll and L.T. Simmons Commonwealth Legacy Scholar at NRCC. Dishon was enrolled at NRCC with advanced placement studies while he was a student at Pulaski County High School. For four years, he was involved with SkillsUSA and twice served as president and once as treasurer of his school's chapter. He also received a varsity SkillsUSA letter and a baseball letter. Dishon is currently enrolled in NRCC's electrical engineering program and after earning an associate degree, he hopes to embark on a career in the field.
The Commonwealth Legacy Scholarship Program, with 25 recipients this year, was established in 2006 through the generosity of private donors to the Virginia Foundation for Community College Education. The scholarships recognize students from across the commonwealth who have demonstrated academic excellence during high school as well as a commitment to developing their leadership skills. Each scholarship bears the name of one of many philanthropy leaders who support Virginia's Community Colleges.
Glenn DuBois, chancellor of the Virginia Community College System, commended the 53 scholars during the luncheon, saying, "These outstanding students are Virginia's future leaders. They represent the potential in all of our youth, and the difference that we each can make in the world."
Eleven students also received endowed and memorial scholarships honoring special philanthropists and friends who have worked to further the mission of Virginia's Community Colleges, and 10 students were honored as participants in the Valley Proteins Fellows Program.