NRCC staff honored by Virginia Community College System
Nov 21 2013
This is an archived article!
This article was published on Nov 21 2013 and was archived on Nov 22 2014. The information below may be outdated or inaccurate.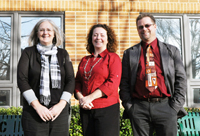 Three New River Community College staff members were recently honored by the Virginia Community College System (VCCS) at the 2013 Workforce Development Services Chancellors Awards Luncheon in Richlands.
Jon Cash of Pulaski, an NRCC career coach, was recognized in the "Career Paths" area for his work with students at Auburn and Eastern Montgomery High Schools and Rivendell School and as an instructor in the college's PluggedInVA program.
Jeanne Symanoskie of Christiansburg was recognized in the "Occupation Specific Instruction and Services" area for her work in developing and conducting training courses in a variety of subjects at the college and by request at local businesses.
Joyce Taylor of Max Meadows was recognized in the "Employer Services" area for her work in promoting NRCC's Workforce Development programs through media releases, advertising, photography and other creative communication outlets.