Hard work pays off for NRCC machining student
Oct 31 2013
This is an archived article!
This article was published on Oct 31 2013 and was archived on Oct 01 2014. The information below may be outdated or inaccurate.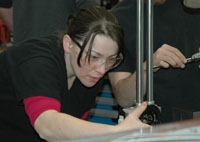 When Agnes Preston immigrated to the United States from Hungary, she was looking for opportunity.
As a single mother providing for her young son, she began working in an industrial plant. The work caused her to have severe headaches and later, she had to quit for health reasons.
After becoming unemployed, the Pulaski resident sought an alternative means to provide for herself and her son. That's when she found the 16-credit, 24-week PluggedInVA Computer Numerical Control (CNC) Machining program at New River Community College.
Although English was not her native language, she scored well on her initial assessments and was invited to participate in the program. Even though there were some occasions when a language barrier contributed to some obstacles, she refused to give up. She even spent many hours helping her classmates in study groups. And, despite earning a silver level on the Career Readiness Certificate, Preston is determined to take the test again to try for the gold.
She graduated from the program in May with a 2.75 GPA and began working at MOOG Components Group in Blacksburg. She returned to NRCC this semester to work toward an associate degree in machine technology.
More information about PluggedInVA programs at NRCC is available by contacting the Office of Transitional Programs at 540-674-3682 or adulted@nr.edu .