Two NRCC Phi Theta Kappa students receive national Coca-Cola scholarship
Sep 24 2013
This is an archived article!
This article was published on Sep 24 2013 and was archived on Sep 25 2014. The information below may be outdated or inaccurate.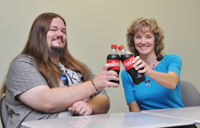 New River Community College students Cecile Newcomb and Joshua Wilson were recently awarded national Coca-Cola "Leaders of Promise" scholarships.
The Leaders of Promise scholarship program provides new members of the Phi Theta Kappa honor society with financial resources to help defray educational expenses while enrolled at a two-year college. Up to 180 scholarships of $1,000 each are awarded annually based on applications submitted by members.
Newcomb, of Blacksburg, is a general studies student at NRCC. She plans to transfer to Virginia Tech, where she'd like to study urban affairs and planning. She also wants to pursue a master's degree in public administration. She currently serves on the Blacksburg Town Council and Planning Commission.
Wilson, of Elliston, is also a general studies student. He would like to transfer to Radford University and study psychology. Eventually, he hopes to become a therapist and work with individuals struggling with traumas and addictions.
Phi Theta Kappa International Honor Society is the official honor society for two-year colleges and the largest honor society in America. To be eligible for membership, students must have completed at least 12 hours of coursework that may be applied to an associate degree program and have a grade point average of at least 3.5.