"Tinyland" art exhibit to be displayed at NRCC
Sep 23 2013
This is an archived article!
This article was published on Sep 23 2013 and was archived on Sep 24 2014. The information below may be outdated or inaccurate.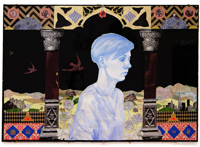 "Tinyland," a miniature show by New York artist Tatiana Klacsmann, will be on display at New River Community College in Dublin beginning Tuesday, September 24. A "meet the artist" reception will be held from noon to 1:30 p.m. that day.
Klacsmann's work consists of drawings, paintings, prints and sculptures that uphold her aesthetic appreciation for beauty and precision over efficiency. Her work has been shown both nationally and internationally. Before moving to Hudson, N.Y., in 2012, she assisted artist Takashi Murakami, conserved paintings as a conservation technician at Crawford Conservation, and supported other artists as a staff member at the Vermont Studio Center. She has served on the faculty in the art departments of Johnson State College in Johnson, Vt., and Georgia Regents University in Augusta, Ga. She completed a master of fine art degree at Johnson State College, master of art history degree at the University of Glasgow with Christie's Education, and bachelor of arts degree at Yale University.
Of her work, Klacsmann says, "I examine the division between beauty and monstrosity by drawing and sculpting creatures whose bodies fuse disparate parts: chimeras, dolls and automata. Because these hybrids represent both unity and division, I bring together a wide variety of media in each piece."
The show will be on display in NRCC's art gallery in Godbey Hall through Friday, December 20. Gallery hours are Mondays and Wednesdays from 11 a.m. to 4:30 p.m., Tuesdays and Thursdays from 9:30 a.m. to 4:30 p.m. and Fridays from 11 a.m. to 1 p.m.