Advance tickets for Oak Ridge Boys NRCC concerts go on sale July 15
Jun 24 2013
This is an archived article!
This article was published on Jun 24 2013 and was archived on Jun 25 2014. The information below may be outdated or inaccurate.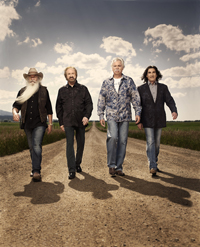 Country and gospel group the Oak Ridge Boys will perform two concerts at New River Community College on Saturday, September 14.
Tickets for both shows will go on sale beginning Monday, July 15, at 8 a.m. and may be purchased online at www.nr.edu/fiddle (credit card only with a $1 service charge per ticket), at the Pulaski County Visitor's Center in Dublin (cash or check only) and at NRCC in Edwards Hall, office 215 (cash or check only). Prices are $30 for general seating and $35 for reserved seating.
The first show will take place at 2 p.m. with doors opening at 1 p.m. and the second show will take place at 7:30 p.m. with doors opening at 6 p.m. Both shows will be held in Edwards Hall, room 117. Their appearance in Dublin is part of their 40th anniversary tour.
With four decades of charted singles to their credit, the Oak Ridge Boys have an easily recognizable sound in the music industry. They hold 12 gold, three platinum and one double-platinum album, in addition to one double-platinum single. The group saw more than 30 members come and go before the current lineup of Duane Allen, Joe Bonsall, William Lee Golden and Richard Sterban came together in the early 1970s. Since then, the Oak Ridge Boys have branched out from their gospel and country roots to work with artists like Paul Simon, Ray Charles and the White Stripes.
Corporate sponsors of the show include CVS Pharmacy, Dublin; Gregory Seeding and Landscaping Company, Pulaski; King's Tire Service, Pulaski; Pepsi Cola Bottling Co.; Pulaski County Patriot, Pulaski; Shoney's Restaurant, Dublin; Southern Furniture Warehouse, Radford; Trader's Emporium & Estate Jewelry Services, Dublin; Dublin VFW Post 1184, Pulaski; Ladies Auxiliary to VFW Post 1184; Wade's Supermarket, Dublin; and WPSK Radio.
More information about the show is available from Roger Adkins at (540) 674-3600, ext. 4307, and online at http://www.nr.edu/fiddle .