Old Pros Big Band Orchestra to hold 40th anniversary concert/dance at NRCC on June 22
Jun 11 2013
This is an archived article!
This article was published on Jun 11 2013 and was archived on Jun 12 2014. The information below may be outdated or inaccurate.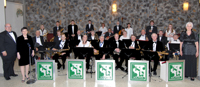 The Old Pros Big Band Orchestra will celebrate its 40th anniversary at a special performance at New River Community College on Saturday, June 22. From 8 to 10 p.m. dancers (and listeners) will have the opportunity to enjoy the sounds of the Big Band Era in Edwards Hall, room 117, at New River Community College in Dublin.
The event will also culminate the day's events for the 1950s classes of Dublin High School whose members will celebrate a combined reunion earlier in the day at the college.
The Old Pros Concert/Dance will be free and open to the public; however, donations will be accepted toward an endowed scholarship being established in the name of Dublin High School through the NRCC Educational Foundation. The scholarship will be awarded to a deserving NRCC student each year.
Even though the Big Band Era spans the period of 1920s to 1940s, the Old Pros will play a few songs from the 1950s in honor of the Dublin High School reunion guests who will be in attendance.
Dean Chiapetto, current conductor of the band, will share his podium with founding conductor, Larry Long. Long, who resides in Florida, will be a guest soloist and will conduct several songs during the evening. Several other retired band members are expected to play with the band for a couple of numbers.
The Old Pros Big Band Orchestra is an all-volunteer organization that was founded at New River Community College in January 1973 by a small group of local musicians interested in preserving and playing the sounds of the Big Band Era. Since the first rehearsal in 1973, the band has grown to 28 musicians. Membership includes professionals, small business owners, retirees, teachers and students. Their ages and musical backgrounds are as varied as their professions.
Current Old Pros members include:
CONDUCTOR: Dean Chiapetto, Floyd.
SAXOPHONES: Diane Dobyns Blair, Dublin; Michael T. Bruce, Pulaski; Walter Dobyns, Dublin; Jim Mitchell, Blacksburg; Karl Sanzenbach, Blacksburg; Dixon Smiley, Christiansburg; Anna Vandevander, Draper; Joel Williams, Blacksburg.
TROMBONES: Alex Hill, Pulaski County; Andy King, Pulaski; Patrick Reidy, Roanoke; Jeff Ritchie, Blacksburg; Mildred Stafford, Wytheville; Spencer Taylor, Pilot.
TRUMPETS: Patrick Butler, Pulaski; Gary Carter, Galax; Matt Clabaugh, Floyd; Katelyn Johnston, Pulaski; Dick Kazee, Christiansburg; Judith Lineberry, Galax.
RHYTHM: Donna Arnold, Galax; Lynn Chenault, Draper; Bill Hoffman, Roanoke; Susan Sanders, Blacksburg; Bill Ward, Pulaski County.
VOCALISTS: Laura Clark, Blacksburg; Betty Herbert, Giles County.
More information about The Old Pros Big Band Orchestra can be found on the website www.nr.edu/oldpros or by calling Dean Chiapetto, director, at 540-392-6784.