SkillsUSA helps students become skilled workers
Jun 07 2013
This is an archived article!
This article was published on Jun 07 2013 and was archived on Jun 08 2014. The information below may be outdated or inaccurate.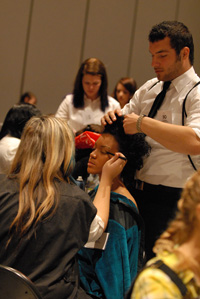 Skilled workers are crucial in all fields. From plumbing to cosmetology, highly-skilled individuals make these professions work. But where do those workers come from? How do they get started? For many, involvement with SkillsUSA is the answer.
SkillsUSA is an organization for students enrolled in career and technical education programs at secondary and post-secondary institutions that maintains a key partnership with business and industry. The organization uses that partnership to help develop skilled employees for the workplace.
Virginia's only student specialist, Deborah Tripp oversees all secondary and post-secondary chapters of SkillsUSA in Virginia and helps coordinate projects, competitions and events. Tripp, of Leesburg, works through New River Community College (NRCC). The college hosts the grant for her position and helps support SkillsUSA Virginia in various ways including hosting skills competitions.
Tripp's role as the leader of Virginia's SkillsUSA organization began in 2012, but her ties to the organization go back much further. As a student, she was a member of SkillsUSA in 1985 and 1986 when it operated under its former name, the Vocational Industrial Clubs of America (VICA). During that time, she competed in skills competitions and served as a club officer. Later, when she became a teacher in Orlando, Fla., she was in charge of a high school VICA chapter. After that, she went on to work in the SkillsUSA national office in Leesburg.
Even a short discussion with Tripp shows how much she truly believes in the importance of getting students involved. "We help students excel," she says. She notes that there are numerous opportunities for students in both high school and college to showcase their leadership and technical skills through local, state and even world level competitions. Tripp describes the contests as being "like the Olympics," where students have the opportunity to compete for medals, prizes and the honor of being named the best in their fields. Some of those fields include cosmetology, veterinary assisting, computer repair, green technology, HVAC and automotive service technology.
Bragging rights aside, there's also another key benefit for SkillsUSA members born out of the organization's close relationship with business and industry. Business partners from various fields serve as the judges for SkillsUSA competitions, allowing them to see potential new employees at work. Tripp says students are encouraged to bring their resumes to all SkillsUSA competitions because the possibility exists of receiving an on-the-spot job offer.
Community service is also large part of SkillsUSA, an addition to the leadership and professional development components that Tripp says helps develop well-rounded students. Recently, chapters throughout Virginia held canned food drives. Each chapter selected a local organization to benefit from the donations they received.
Competitions for this academic year are complete; but, several big events are already being planned for next year including the Southwest Fall Festival, held at NRCC in Dublin. The event draws students from throughout Southwest Virginia and focuses on cosmetology competitions. During last year's festival, more than 200 students competed.
More information about SkillsUSA Virginia may be obtained by visiting www.vaskillsusa.org .