NRCC Early Learning Center students graduate
May 20 2013
This is an archived article!
This article was published on May 20 2013 and was archived on May 21 2014. The information below may be outdated or inaccurate.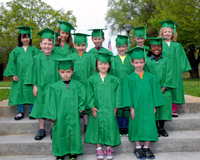 Twelve pre-school children recently graduated from the New River Community College Early Learning Center (ELC).
The children were honored at a special ceremony on the NRCC campus before an audience of their family and friends.
The graduates were: Maggie Bolling, daughter of Brian and Jennifer Bolling of Radford; Cole and Skylor Boone, sons of Moss and Linda Boone of Dublin; Mason Cox, son of Steve and Wendy Cox of Dublin; Landon Gilmore, son of Mitch and Julie Gilmore of Dublin; Kolten Hedge, son of Richard Hedge, Jr. and Ashley Hurst of Pulaski; Sarah Irvine, daughter of Patrick and Natalie Irvine of Dublin; Ava Jackson, daughter of Rasheeh and Christine Jackson of Dublin; Ajike Olorounto, daughter of Samuel Olorounto and Aliatou Oloubo of Radford; Wesley Smith, son of Michael and Tammy Smith of Fairlawn; Ava Souder, daughter of Greg and Heather Souder of Pulaski and Wyatt Tolbert, son of Josh and Erika Tolbert of Dublin.
The Early Learning Center is located at NRCC in Dublin and is directed by Anne Simmerman.
Photo Cutline: First Row, from left: Mason Cox, Ava Souder, Wyatt Tolbert, Second Row, from left: Kolten Hedge, Wesley Smith, Cole Boone, Ajike OlorountoThird Row, from left: Sarah Irvine, Ava Jackson, Landon Gilmore, Skylor Boone, Maggie Bolling.