Nutter to address NRCC graduates
Apr 30 2013
This is an archived article!
This article was published on Apr 30 2013 and was archived on Apr 30 2014. The information below may be outdated or inaccurate.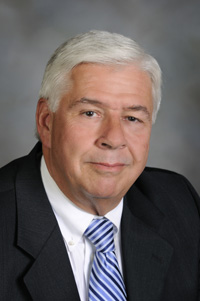 The Honorable David A. Nutter will address graduates at the forty-fourth annual commencement of New River Community College (NRCC) next month. The ceremony will begin at 6:30 p.m. on Wednesday, May 15, in Edwards Hall 117 on the NRCC campus in Dublin.
He served in the Virginia House of Delegates from 2002 to 2012 on committees such as the Committee on Health, Welfare and Institutions and the Joint Commission on Health Care.
During his tenure in the General Assembly, he was named legislator of the year by the Career and Technical Educators Association of Virginia, the Virginia Rural Health Association and the Free Clinics of Virginia.
Last year, Governor Bob McDonnell appointed Nutter to the Virginia Community College State Board. He also serves on the board of One Care of Southwest Virginia, a substance abuse organization, the board of the Virginia Rural Health Council and has been active in a number of community and civic organizations, including the Rotary, Ruritan, and the Chamber of Commerce.
Nutter has been an administrative faculty member at Virginia Tech for 24 years working in the Office of University Relations and for the last nine years in the Office of Economic Development.
Approximately 500 degrees, diplomas and certificates will be conferred during the ceremony.
A live-feed of the commencement ceremony will be provided on NRCC-TV (channel 2, Pulaski County only) and over the internet via NRCC's website at www.nr.edu.
Following the ceremony, a reception will be held in the student lounge on the lower level of Martin Hall with music provided by The Old Pros Big Band Orchestra.
NRCC's associate degree nursing program will hold a separate pinning and graduation ceremony on Monday, May 13, at 6 p.m.