NRCC PBL students win state leadership awards
Apr 24 2013
This is an archived article!
This article was published on Apr 24 2013 and was archived on Apr 25 2014. The information below may be outdated or inaccurate.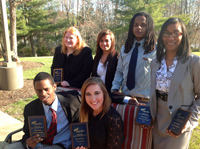 Six New River Community College students recently won awards at the Phi Beta Lambda (PBL) Virginia State Leadership Conference in Richmond. Pictured from left to right are (seated) Ryan MaHan, 3rd place in Impromptu Speaking; Jenalee Martin, 2nd place in Client Service; (standing) Cindy McPeak, 1st place in Project Management; Kelly Russell, 1st place in Client Service; Reggie Watson, 2nd Place in Sales Presentation and Takia Kasey, 2nd place in International Business and 3rd place in Financial Concepts. Future Business Leaders of America-Phi Beta Lambda is a non-profit education association that helps prepare students for careers in business and business-related fields.