Christiansburg couple honored with VCCS Philanthropy Award
Apr 23 2013
This is an archived article!
This article was published on Apr 23 2013 and was archived on Apr 24 2014. The information below may be outdated or inaccurate.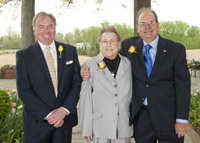 Cheryll and L.T. Simmons of Christiansburg have earned the 2013 Chancellor's Award for Leadership in Philanthropy from the Virginia Community College System. They were nominated by New River Community College and received the award at a recent luncheon ceremony at the Country Club of Virginia in Richmond.
Mr. and Mrs. Simmons have supported NRCC for many years, including funding five endowed scholarships through the college's educational foundation. L.T. is also currently serving his second term on the NRCC Educational Foundation board. When asked about reasons for giving to NRCC, the L.T. Simmons responded, "Community colleges give people the affordability and access to enrich their lives."
In addition to their financial support, Cheryll and L.T. are fixtures at college events, where they can be found shaking hands and happily distributing loaves of Cheryll's homemade bread.
"The Simmonses are loyal friends to New River Community College and their support to our foundation and our students is appreciated beyond measure," said Dr. Jack Lewis, NRCC President.
The Chancellor's Award for Leadership in Philanthropy luncheon is hosted by the Virginia Foundation for Community College Education (VFCCE) to honor the leading philanthropists from each of Virginia's 23 community colleges as well as the statewide foundation. This marks the eighth year the awards have been given.
This year's class of distinguished philanthropy leaders has contributed a combined total of more than $17 million dollars to Virginia's Community Colleges.
"The generosity of the two dozen philanthropy leaders we honor represents a brilliant collection of individuals, foundations and employers who believe in the sheer beauty of transformation," says VCCS Chancellor Glenn DuBois. "They believe in the knowledge and skills that Virginia's Community Colleges offer to every Virginian. We thank them deeply for the partnerships that demonstrate the brilliance of philanthropy."
The honored philanthropists will have a scholarship named for them which will be awarded next fall to a student attending their community college.