Champion of students with disabilities retires from NRCC
Apr 01 2013
This is an archived article!
This article was published on Apr 01 2013 and was archived on Apr 02 2014. The information below may be outdated or inaccurate.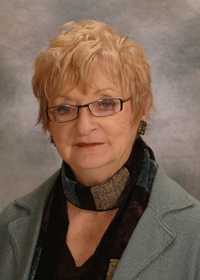 For the past 33 years, if New River Community College students struggled with a disability that made their academic work a challenge, the recommendation they often got from their instructor was simple: "go see Jeananne."
Even though Jeananne Dixon Bame retired as coordinator of Disability Services at NRCC in September, she continues to help students with disabilities. These days, she can be found back at the college on a part-time basis advising students, proctoring tests and consulting with faculty about student accommodations. She's also taken on a new project - working with state and local agencies to improve the success of students with traumatic brain injury in the college environment.
Dixon Bame, originally from Indiana, received her degree in early childhood education and special education and went on to teach in the public school systems in Indiana and Michigan. She also helped train student teachers at Michigan State. From there, she moved to Athens, Georgia, where she worked with the University of Georgia to star one of Athens' first summer Head Start programs.
After several years in Georgia, Dixon Bame made her way to Blacksburg, where she started her own early childhood program. That venue got her in touch with NRCC, where she started teaching early childhood education courses in 1979. But a new opportunity came calling when NRCC began developing its program for students with disabilities. "I was asked if I was interested in developing the program and I was thrilled!" says Dixon Bame.
Developing the program was no small task, requiring her to work with federal grants, develop an advisory committee of special educators from throughout the New River Valley and build the fledgling program focusing on students with learning disabilities in conjunction with NRCC's existing center for the deaf and hard of hearing. "We were able to get a really great program together," she says.
The nationally recognized, award-winning program continues today as the Center for Disability Services at NRCC. The center's staff helps train faculty to work with students with disabilities in the classroom, offers a wide range of services to students and makes regular presentations at local, state and national conferences and meetings.
Of her duties in the center, Dixon Bame says, unsurprisingly, that her favorite was working with students. Specifically, helping them become advocates for themselves and understand what their strengths are. "Many times students with disabilities don't know what their best qualities are," she says. "For years they've been told 'you can't do math' or 'you're not good with language' and they've never been told what their strengths are." She says her main goal, since day one, has been to help the students understand what their disabilities mean and that they "bright, intelligent people who learn in a different way."
Dixon Bame recently married Dr. Allen Bame. They've purchased a home together and when she finds free time, she can be found volunteering with a local Ruritan club or indulging a passion for decorating.
But ultimately, her true passion is helping students with disabilities. "To see students really believe in themselves and believe that they can do it - that's fun!"