NRCC students visit Virginia Legislators
Feb 19 2013
This is an archived article!
This article was published on Feb 19 2013 and was archived on Feb 20 2014. The information below may be outdated or inaccurate.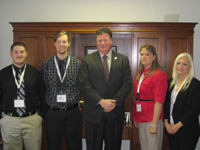 A delegation of New River Community College students, along with NRCC president Dr. Jack Lewis and Vice President for Workforce Development and External Relations Dr. Mark Rowh, recently visited Virginia legislators in Richmond as part of Virginia's "Every Day is Community College Day" program. Here, the students visit with Delegate Mike Watson, a 1983 graduate of NRCC's instrumentation program. Pictured from left to right: Cody Ludwig, Michael Harris, Delegate Mike Watson, Kellie Fore and Kimberlie Honaker.