New River Community College Launches Free Mobile Campus App
Feb 07 2013
This is an archived article!
This article was published on Feb 07 2013 and was archived on Feb 08 2014. The information below may be outdated or inaccurate.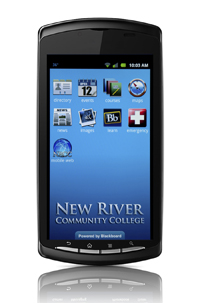 Powered by Blackboard, NRCC Mobile Brings Interactive Campus Experience to Smartphones
New River Community College Information Technology officials have announced the launch of NRCC Mobile, a free mobile campus application that brings college life to popular smartphones and mobile devices. NRCC Mobile allows the NRCC community to stay connected wherever they are, on campus. The app offers mobile access to campus maps, the entire course schedule, event calendars, the latest college news and more.
Students, faculty and staff can download the application for free through app stores. Developed by Blackboard Mobile, a division of education technology company Blackboard Inc., the app is also expected to be popular with prospective students, parents, alumni and other members of the college community.
"We want to offer our students and other members of our community the best in technology and access, and that means making New River's services and information available to mobile users," said Tim Jones, director for Information Technology.
Jones also notes that the current version of NRCC Mobile is just the beginning and that work is already under way to add new features such as mobile class registration and payment to future versions.
NRCC Mobile is available free on Android™ and Apple(R) iOS devices through app stores and at www. nr.edu/mobile .