Joey Cox and Company, Zephyr Lightning Bolts to perform at February NRCC bluegrass Jamboree
Jan 31 2013
This is an archived article!
This article was published on Jan 31 2013 and was archived on Jan 01 2014. The information below may be outdated or inaccurate.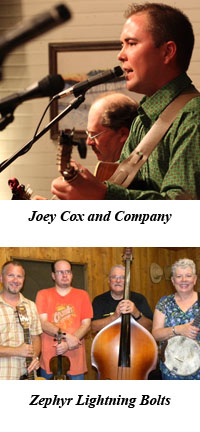 The music of Joey Cox and Company and the Zephyr Lightning Bolts will be featured during New River Community College's Fiddle, Banjo and Dance Club Jamboree on Saturday, February 9. The music will begin at 6 p.m. in Edwards Hall, room 117, at NRCC in Dublin.
Musician Joey Cox grew up in Pulaski County listening to bluegrass music with his family and has played it for as long as he can remember. He started playing at age 10 with his grandfather's band, the "Black Mountain Ramblers." Inspired by banjo legends like Scott Vestal, Sammy Shelor and Jodi King, Cox began attending festivals throughout Virginia and the Carolinas. After placing at many local competitions, he joined the Hillsville-based group "Fast Forward." He has also played in the bands Blue Ridge and Lou Reid & Carolina and with the legendary Doyle Lawson and his band Quicksilver. Cox's performance at NRCC will feature Cox on guitar, Barry Collins on banjo, B.J. Compton on bass, and Sheena Padgett on vocals.
The Zephyr Lightning Bolts is an old-time band from the Wilkes and Surry County areas of North Carolina. The band has made five recordings and plays for square dances, festivals and other local events. Their musical selections include music for flat footing, ballads for waltzes, jigs and reels for square dances and old gospel songs. Band members are Steve Bowen on bass and vocals, Diane Bowen on banjo and vocals, Jacob Bowen on fiddle and vocals, and Sean Jarman on guitar.
Corporate sponsors of the jamborees include CVS Pharmacy, Dublin; King's Tire Service, Pulaski; Pepsi Cola Bottling Co.; Pulaski County Chamber of Commerce; Pulaski County Patriot, Pulaski; Shoney's Restaurant, Dublin; Southern Furniture Warehouse, Radford; Trader's Emporium & Estate Jewelry Services, Dublin; Wade's Supermarket, Dublin; and WPSK Radio.
The doors open at 5 p.m. for the show. There is no charge for admission; however, donations will be accepted to help pay travel expenses for the musicians. The jamborees are held the second Saturday of each month through April at NRCC, a Crooked Road affiliated venue.
More information about the NRCC Fiddle, Banjo, and Dance Club is available from Roger Adkins at 674-3600, ext. 4307, and online at http://www.nr.edu/fiddle .