Nineteen students graduate from NRCC's practical nursing program
Dec 18 2012
This is an archived article!
This article was published on Dec 18 2012 and was archived on Dec 19 2013. The information below may be outdated or inaccurate.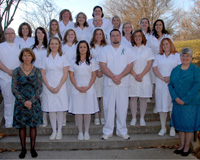 Nineteen New River Community College students have completed requirements for the three-semester practical nursing program at the college. They received certificates and participated in a pinning ceremony on December 14.
Practical nursing graduates were Rebecca Dawn Barker of Galax, Douglas Coursen Caldwell of Roanoke, Mary Beth Custer of Radford, Jason Warden Dove of Blacksburg, Amanda Marie Duncan of Willis, Laurissa Lynn Eller of Dublin, Anita Beth England of Pearisburg, Sabrina Renee Goad of Willis, Ashley Kristin Hurst of Pulaski, Heidi Marie-Frances Jennings of Pulaski, Adam Silas Lamb of Floyd, Sarah Hope Martin of Floyd, Brooke Amber Musselman of Christiansburg, Jennifer Renea Nester of Meadows of Dan, Paula H. Parsell of Narrows, Amara Wetzel Price of Floyd, Sara Nicole Rupe of Dublin, Michelle Ann Smith of Pilot and Chelsea Dianne Vest of Riner.
Two practical nursing students had special roles in the ceremony. Adam Lamb was chosen by his peers to give the graduation address and Rebecca Barker sang "Whenever You Remember" during a photographic slide show of their experiences as nursing students at the college.
NRCC's certificate program prepares students to qualify as contributing members of a health team, rendering patient care in a variety of health service facilities. These students are eligible to take the Virginia Board of Nursing examination leading to licensing as a Licensed Practical Nurse (LPN).