NRCC hosts neon art exhibit
Oct 10 2012
This is an archived article!
This article was published on Oct 10 2012 and was archived on Oct 11 2013. The information below may be outdated or inaccurate.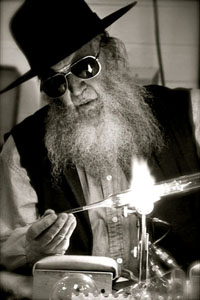 An electrifying display is lighting up New River Community College's art gallery. Local neon and glass artist Ed Biggar has several of his neon works on display in a show titled "Confessions of an Illuminator" in the NRCC art gallery in Dublin through Friday, December 21.
The NRCC art gallery hours are Mondays and Wednesdays from 10 a.m. to 5 p.m., Tuesdays and Thursdays from 2:30 to 4:30 p.m. and Fridays from 10 a.m. to 1 p.m.
Biggar has worked in glass for over three decades, starting as an art major at Oregon State University in the early 1970s, and continuing to a glass program at California State University, San Bernardino. He currently serves as an instructor and technical consultant, as well as freelance writer for "The Flow," "Profitable Glass Quarterly" and "Glass Craftsman." He has also written for "Sign Builder Illustrated" and "Neon News" magazines.
Biggar is the proprietor of his own studio, Artneon, and his work has been exhibited both nationally and internationally. He is the recipient of numerous awards for his mixed media
sculptures featuring elements of glass and light, including neon. When asked what medium he works with, Biggar says "whatever works." In addition to making time for his own artwork, he and his wife Martha, also an artist, maintain a beef cattle herd on their farm in Draper along with horses, donkeys and a riding mule.