Bogtrotters, Blue Ridge Travelers to perform at NRCC Fiddle, Banjo and Dance Club Jamboree
Sep 27 2012
This is an archived article!
This article was published on Sep 27 2012 and was archived on Sep 28 2013. The information below may be outdated or inaccurate.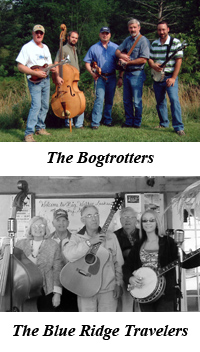 New River Community College (NRCC) will feature The New Ballards Branch Bogtrotters and the Blue Ridge Travelers for the college's first Fiddle, Banjo and Dance Club Jamboree of the season on Saturday, October 13. The show will begin at 6:00 p.m. in Edwards Hall at NRCC in Dublin.
The New Ballards Branch Bogtrotters band takes its name from the original Galax based Bogtrotters, who won the first ever Galax Old Time Fiddler's Convention in 1935. The modern-day old-time group includes Leon Frost, mandolin; Jesse Morris, bass; Eddie Bond, fiddle; Dennis Hall, guitar and John Ellis, banjo. The band has played at festivals across the U.S. and also participated in the Friends of American Oldtime Music and Dance Festival in Gainsborough, England.
The Blue Ridge Travelers is a relatively new bluegrass band, having been together for about one and a half years. Band members include founder Stephanie Gibson (formerly of Adam McPeak and Mountain Thunder) on banjo, Bobby Patterson on mandolin, Darrell McCumbers on fiddle, Carolina Patton on bass and Dempsey Patton on guitar. The group is primarily from the Galax area, though Darrell McCumbers is from Woolwine.
Corporate sponsors of the jamborees include CVS Pharmacy, Dublin; King's Tire Service, Pulaski; Pepsi Cola Bottling Co.; Pulaski County Chamber of Commerce; Pulaski County Patriot, Pulaski; Shoney's Restaurant, Dublin; Southern Furniture Warehouse, Radford; Trader's Emporium & Estate Jewelry Services, Dublin; Wade's Supermarket, Dublin; and WPSK Radio.
The doors open at 5 p.m. for the show. There is no charge for admission; however, donations will be accepted to help pay travel expenses for the musicians. The jamborees are held the second Saturday of each month through April at NRCC, a Crooked Road affiliated venue.
More information about the NRCC Fiddle, Banjo, and Dance Club is available from Roger Adkins at 674-3600, ext. 4307, and online at http://www.nr.edu/fiddle .