Dailey and Vincent with Jimmy Fortune to perform at New River Community College
Sep 25 2012
This is an archived article!
This article was published on Sep 25 2012 and was archived on Sep 26 2013. The information below may be outdated or inaccurate.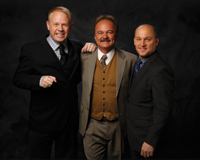 Bluegrass musicians Jamie Dailey and Darrin Vincent will perform with country artist Jimmy Fortune on Saturday, October 27, at 7:30 p.m. at New River Community College in Dublin, a Crooked Road affiliated venue. The three will be joined by Christian Davis for an evening of country music classics and gospel favorites featuring four-part harmonies.
Both Dailey and Vincent were raised in musical families and have played bluegrass music since they were children. Dailey has worked with Doyle Lawson and Quicksilver as lead vocalist, baritone and tenor singer, bass player, and guitarist and has recorded with Dolly Parton and Rhonda Vincent.
Vincent began playing and singing bluegrass music as a child with his family band, The Sally Mountain Show alongside his sister, Rhonda Vincent. He was a member of Ricky Skaggs and Kentucky Thunder and has performed and recorded with a multitude of artists including Dolly Parton, Nora Jones, Emmylou Harris, Earl Scruggs, Vince Gill, Keith Urban and more.
Jimmy Fortune performed with the legendary Statler Brothers for 21 years, first joining the group as a temporary replacement for Lew DeWitt. However, after illness kept DeWitt from returning to the stage, Fortune became a permanent member of the group. He was responsible for writing several of the group's number one hits including "Elizabeth," "My Only Love" and "Forever." Fortune and the Statler brothers were inducted into the Gospel Music Hall of Fame in October of 2007 and the Country Music Hall of Fame in June of 2008.
Christian Davis began singing at age three and learned to play various instruments throughout his childhood. He began singing professionally as a bass vocalist in 1998 while attending Liberty University. He was the original bass singer for the Old Time Gospel Hour Quartet and has since sung with the Old Friends Quartet, Christian Brothers Quartet and Mercy's Mark. He now tours with Dailey and Vincent.
Corporate sponsors of the Dailey and Vincent with Jimmy Fortune show at NRCC include CVS Pharmacy, Dublin; King's Tire Service, Pulaski; Pepsi Cola Bottling Co.; Pulaski County Chamber of Commerce; Pulaski County Patriot, Pulaski; Shoney's Restaurant, Dublin; Southern Furniture Warehouse, Radford; Trader's Emporium & Estate Jewelry Services, Dublin; Wade's Supermarket, Dublin; and WPSK Radio.
Tickets for the show are on sale now and may be purchased by visiting the NRCC Fiddle, Banjo and Dance Club website, www.nr.edu/fiddle . Tickets are also available for purchase at the Pulaski County Visitor's Center in Dublin and the NRCC Office of Workforce Development, located in Edwards Hall.
Advance general seating tickets are $25 each (online purchases incur a $1 transaction fee per ticket and are available for pickup at the show).
Tickets will also be available at the door before for $30 each. Doors open one hour before the show.
For a sample video featuring the music of Dailey, Vincent and Fortune visit http://www.nr.edu/promo .