NRCC Workforce Development Spotlight: Laurel Schirr, corporate trainer
Sep 06 2012
This is an archived article!
This article was published on Sep 06 2012 and was archived on Sep 07 2013. The information below may be outdated or inaccurate.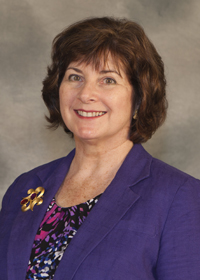 In a depressed economy, businesses focus on keeping things squarely in the black. But business leaders also know that success and growth aren't just a numbers game - it takes skilled employees and thoughtful management to make it all work.
Laurel Schirr, corporate trainer for NRCC, develops workshops and customized training courses to help managers and employees develop and improve crucial business abilities such as time management, customer service and selling skills.
Schirr, of Blacksburg, has an MBA from the Kellogg School of Management, Northwestern University, and spent much of her career in Chicago. She has worked in marketing, sales and training. "I've enjoyed the opportunity to do a great deal of public speaking in my career; training financial sales people and presenting public seminars," she says.
Schirr's work has also taken her to many different countries. By her count, she's been around the world seven times. When asked to choose a favorite place from among her travels, she struggles to narrow the list, but says that "Hong Kong, Bangkok and Istanbul are the top three places that I've seen - so far."
Though she's traveled the world and built a strong background in business, Schirr hasn't left the classroom entirely behind - she also teaches marketing and management classes at Virginia Tech and Radford University, where she says having one foot in the academic world and one in the corporate world has been beneficial. "There is incredible overlap," says Schirr. "Sometimes in my training sessions, someone will ask a question and I'll realize that it goes right along with material from my previous week's lecture at Virginia Tech."
She says that the mix of audiences also has a positive influence on her work. "The college students are a lot of fun," she says. "They help me stay current and really keep up with what's going on."
But above all her favorite part of teaching and training is when material really clicks for her students or workshop participants. "When I'm talking and I see the light bulb go off over someone's head - that's very special," she says.
She also notes that she enjoys the prep work that goes into designing a class or putting together a workshop. "I enjoy trying to figure out a fun, creative way to get across an idea," she says. And that enjoyment translates to classes and workshops that are a mix of lecture, discussion and hands-on activities. "When I'm developing a workshop, I'm known to be carrying around balls, buzzers, role-play scripts and lots of other interesting things," she says. "There does have to be some lecture, but I think we all learn and remember better when we're active."
Schirr continues to develop new workshops based on her experiences in the business world and in the classroom and on her own ongoing research into trending business topics. She also designs custom training sessions and seminars with input from local companies.
To inquire about training opportunities and customized solutions, contact the NRCC Office of Workforce Development at 540-674-3613.