NRCC Adds to Engraved Brick Walk
Jul 30 2012
This is an archived article!
This article was published on Jul 30 2012 and was archived on Jul 31 2013. The information below may be outdated or inaccurate.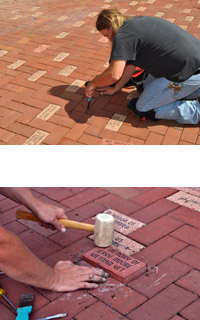 The recent summer heat didn't stop New River Community College facilities services employee David Boyd from installing new engraved bricks in the walkway by Edwards Hall at the college's campus in Dublin. The bricks are part of the NRCC Foundation's engraved brick program. Here, Boyd installs a brick in memory of former member of the NRCC facilities services staff, Jerry Moore. Each brick costs $100 and the proceeds are used by the foundation to serve the interests of the college, including helping to fund student scholarships. More information about the engraved brick program may be obtained from the NRCC Educational Foundation at 540-674-3655.