Reading, meet-the-author event to be held at NRCC
May 29 2012
This is an archived article!
This article was published on May 29 2012 and was archived on May 30 2013. The information below may be outdated or inaccurate.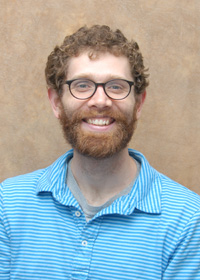 A literary reading and meet-the-author event with the Rev. Andrew Taylor-Troutman will be held at New River Community College in Dublin on Monday, June 18, at 7:00 p.m. in Edwards Hall 206. The event is free and open to the public and is sponsored by New Dublin Presbyterian Church.
Taylor-Troutman will read from his book, "Take My Hand: A Theological Memoir." The book is an invitation to experience a year of preaching through the eyes of a first-year pastor. Taylor-Troutman reflects on his experience of ministry as a dynamic exchange between his theological education and the people in the pews. Each chapter consists of Taylor-Troutman's reflections about a particular aspect of living as a faith community and concludes with a sermon exploring similar themes and ideas.
Brian K. Blount, president and professor of New Testament Union Presbyterian Seminary calls Troutman's book, "A wonderful blending of communal observations and deep spiritual insight. Rev. Taylor-Troutman sees the connection between the faith and community, and in the sharing of his experience invites us to see and learn from that connection. An excellent resource for any new pastor starting a faith journey with a congregation, or a seasoned pastor reflecting anew."
Richard Lischer of Duke Divinity School, also has praise for Troutman. "Andrew Taylor-Troutman has written a delightful pastoral memoir, full of human insights and theological truths. It is in the best sense an encouraging book to any and all who aspire to the title 'Pastor.' I recommend it highly."
Taylor-Troutman grew up a pastor's son in Raleigh, North Carolina. He notes a great influence from his church community there and from the period in his life during which his mother went back to school full time to earn her graduate degree, instilling in he and his brother the great value of education.
Taylor-Troutman began his ministerial career by working with youth. He has since earned two graduate degrees, born out of a desire to deepen his theological understanding and assume greater leadership responsibility. He currently serves as the pastor of New Dublin Presbyterian Church.
Copies of "Take My Hand" are currently available in the NRCC Bookstore in Martin Hall and will also be available for purchase at the event in the lobby of Edwards Hall.