Old Pros Big Band to play benefit concert at NRCC
May 25 2012
This is an archived article!
This article was published on May 25 2012 and was archived on May 26 2013. The information below may be outdated or inaccurate.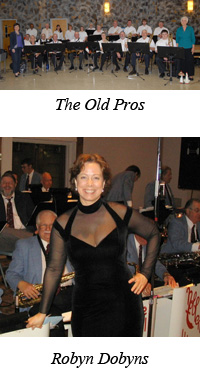 The Old Pros Big Band Orchestra of New River Community College (NRCC) will play a benefit concert in memory of The Honorable J. Robert (Bob) Dobyns, former member of the Virginia House of Delegates, member of the NRCC Educational Foundation board and longtime supporter and friend of the college.
The concert will be held on Sunday, June 10, from 3 to 5 p.m. in Richardson Auditorium in Rooker Hall at NRCC in Dublin. Admission is free, but donations will be accepted for the NRCC Educational Foundation Scholarship fund in memory of Dobyns.
The Old Pros Big Band Orchestra is an all-volunteer organization founded in 1973 by a small group of musicians interested in preserving and playing the sounds of the Big Band era. The group, conducted by Wilbur Grant, plays music from the heyday of the Big Band era as well as today's modern sounds. Band members have diverse musical and professional backgrounds and span a wide age range.
The concert at NRCC will feature Roanoke vocalist Robyn Dobyns, daughter Cornelia Dobyns and the late Bob Dobyns. Robyn Dobyns is a Pulaski County native and is currently the director of the Botetourt Resource Center, which she created as a non-profit program through the Council of Community Services in 2000. She has performed swing and jazz music with various musicians in the Roanoke Valley over the past 15 years and has performed at locations including The Homestead and Greenbrier resorts. She has also performed with the Shriner's Big Band Orchestra and performs folk/rock with her partner Marian McConnell under the name "Sherwood."
Robyn Dobyns says the legacy of giving back to the community was instilled by her parents and grandparents. She says, "I am pleased to participate in the benefit concert to help raise funds for the foundation's scholarship program. Students graduating from New River are leaving with enriched and educated minds."