NRCC to offer string instrument classes for summer
May 22 2012
This is an archived article!
This article was published on May 22 2012 and was archived on May 23 2013. The information below may be outdated or inaccurate.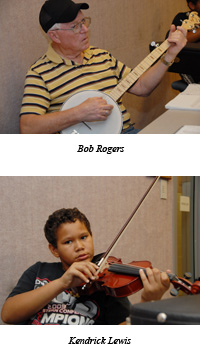 New River Community College will once again offer string instrument classes this summer at the campus in Dublin. The ten-week courses include basic fiddle, clawhammer banjo, guitar and a new combined fiddle and banjo level two class.
The basic clawhammer banjo class will be held on Wednesday evenings from 7 to 9 p.m. beginning on May 30. Basic fiddle will be held on Thursday evenings from 7 to 9 p.m. beginning on May 31. The basic guitar class will be held on Mondays from 6:30 to 8 p.m. beginning June 4.
The combined fiddle and banjo level two class will be held on Monday evenings from 7 to 9 p.m. and will begin on June 4. Classes are open to students of all ages.
The basic fiddle, basic clawhammer banjo and fiddle and banjo level two classes will be taught by Floyd musician Mike Mitchell. Mitchell is the founder and director of the Floyd Music School, which teaches students of all ages to read and write a variety of music, while emphasizing local heritage mountain music. He holds a degree in music from Youngstown State University in Youngstown, Ohio, and has played violin for 35 years. Mitchell also played fiddle for area bands "Acoustic Endeavors" and "Blue Moonshine."Mitchell's basic fiddle and clawhammer banjo courses will present students with the basic rudiments of all music, but will focus on teaching students mountain heritage music pieces. Banjo students will begin by learning basic chords and progressing to melodies, while fiddle students will begin with melodies and progress to chords and double stops.
Level two fiddle and banjo students will focus on more advanced techniques including other keys and tunings. Additionally, students will learn rhythm and melody and have the opportunity to "jam" together.
The basic guitar course will be taught by musician and NRCC CAD instructor Jeff Levy. Levy has been playing guitar for most of his life and has played in several bands of varying genres including country, southern rock, Christian country and bluegrass. He has recorded two songs, one of which, "Red, White and Blue," was included in a compilation CD made for troops serving in Iraq.
Levy's guitar course material will include the parts of the guitar, fundamentals of chording, strumming and picking methods and playing music in the top three frets of the guitar. Students will also have the opportunity to learn the basics of the chromatic scales.
The cost for the basic fiddle, basic banjo and combined fiddle and banjo courses is $183. The cost for the basic guitar course is $137. For all classes, students must furnish their own instruments, tuners and two sets of strings. To register for any of these classes, contact the New River Community College Office of Workforce Development at 540-674-3613.