NRCC 2012 Early Learning Center Graduation
May 17 2012
This is an archived article!
This article was published on May 17 2012 and was archived on May 18 2013. The information below may be outdated or inaccurate.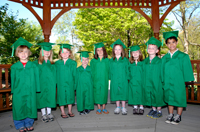 Nine pre-schoolers, who will enter Kindergarten this fall, "graduated" recently from the New River Community College Early Learning Center (ELC). The children, who are enrolled in the college's ELC, were honored at a special ceremony on campus before an audience of their family and friends.
The graduates were (left to right): Harper Parnell, son of Brad and Shana Parnell of Hillsville; Katherine Woinski, daughter of Dan and Sharon Woinski of Radford; Grace Myers, daughter of Cliff Myers of Dublin and Shannon Baker of Radford; Alex Reece, son of Johnny and Chanda Reece of Pulaski; Morgan Hill, daughter of Mitch and Michelle Price of Dublin; Emma Tickle, daughter of Derek and Kim Tickle of Dublin; Mackenzie Higley, daughter of Aaron and Tammy Higley of Pulaski; Ryan Hall, son of Michael and Jessica Hall of Dublin; Mark Stump, son of Nathan Stump of Dublin and Fatimah Shabazz-Manns of Fairlawn.
The Early Learning Center is directed by Anne Simmerman.