Local hospitals honored with VCCS Philanthropy award
May 04 2012
This is an archived article!
This article was published on May 04 2012 and was archived on May 05 2013. The information below may be outdated or inaccurate.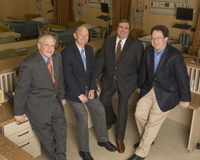 Four local hospitals have been honored by the Virginia Community College System with a 2012 Chancellor's Award for Leadership in Philanthropy. Carilion Giles Community Hospital, Carilion New River Valley Medical Center, LewisGale Hospital Montgomery and LewisGale Hospital Pulaski were nominated for the award by New River Community College. Representatives from the hospitals were recognized at a recent luncheon ceremony at the Country Club of Virginia in Richmond.
Under the leadership of Chief Operating Officers (CEOs) Scott Hill of LewisGale Hospital Montgomery, Mark Nichols of LewisGale Hospital Pulaski, John Piatkowski of Carilion New River Valley Medical Center and James Tyler of Carilion Giles Community Hospital, the hospitals have contributed over one million dollars to NRCC and continue to support the efforts of the college's nursing programs. Their in-kind contributions through clinical programs are also extraordinarily valuable. "We couldn't have a nursing program without these hospitals, for many reasons," says Teri Moore, NRCC nursing program director. "The clinical opportunities they offer and their expert staff really add another layer of learning for the students."
Moore also notes that nursing students are required to complete 500 hours of clinical training over the course of their two-year program and that the majority of those take place in these four local hospitals.
Angie Covey, executive director of NRCC's education foundation, also recognized the contributions of this year's recipients. "To see them come together, from across different health systems, and stand united in support of healthcare education and improving the quality of life in the communities we live in is truly outstanding," she says.
The Chancellor's Award for Leadership in Philanthropy luncheon is hosted by the Virginia Foundation for Community College Education (VFCCE) to honor the leading philanthropists from each of Virginia's 23 community colleges as well as the statewide foundation. This marks the seventh year the awards have been given.
This year's class of distinguished philanthropy leaders has contributed a combined total of more than $48 million dollars to Virginia's Community Colleges.
"These philanthropic leaders are tremendous partners," said Dr. Glenn DuBois, chancellor of Virginia's Community Colleges. "These individuals, organizations and employers are difference-makers who play an essential role in helping our colleges fulfill their mission of addressing Virginia's unmet needs in higher education and workforce development."
The honored philanthropists will have a scholarship named after them which will be awarded next fall to a student attending their community college. The one-year scholarships are funded by Wells Fargo and Dominion.