Virginia Delegate to address NRCC graduates
May 01 2012
This is an archived article!
This article was published on May 01 2012 and was archived on May 02 2013. The information below may be outdated or inaccurate.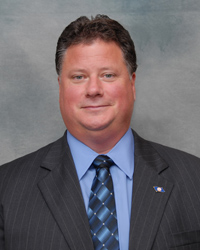 Virginia Delegate and NRCC alumnus Michael B. Watson will address graduates at the forty-third annual commencement of New River Community College (NRCC). The ceremony will begin at 6:30 p.m. on Friday, May 11, in Edwards Hall 117 on the NRCC campus in Dublin. Watson, a Virginia native, grew up in Hampton Roads where he worked with his father in the family's tug boat business. Watson went on to graduate from NRCC's instrumentation technology program in 1983. He traveled the U.S. extensively as an industrial instrumentation technician before moving to North Carolina to start his first business at age 27.
Since then, his employees have traveled the U.S. and the world implementing process control projects for a wide range of industries. Watson expanded his second business to Virginia in 2005. He presently resides in Williamsburg with his wife and three sons.
In addition to his service in the Virginia General Assembly, Watson is the president and chief executive officer of Control Automation Technologies Corporation. He has also been an active member of NRCC's Educational Foundation Board since September, 2010.
Approximately 500 degrees, diplomas and certificates will be conferred during the ceremony.
A live-feed of the commencement ceremony will be provided on NRCC-TV (channel 2, Pulaski County only) and over the internet via NRCC's website at www.nr.edu.
Following the ceremony, a reception will be held in the student lounge on the lower level of Martin Hall with music provided by The Old Pros Big Band Orchestra.
NRCC's associate degree nursing program will hold a separate pinning and graduation ceremony with 40 graduates on Wednesday, May 9, at 6:00 p.m. Ellen DeHaven, family nurse practitioner and 2005 NRCC nursing graduate, will be the keynote speaker.
Also this year, NRCC students will attend graduation in new, environmentally-friendly academic regalia. "GreenWeaver(R)" recyclable caps and gowns from Oak Hall Cap and Gown in Salem are being sold through the NRCC bookstore. The regalia is made from 100 percent post-consumer plastic bottles, with an average of 23 bottles used per gown.
After graduation, students will have the option to drop unwanted caps and gowns in special recycling bins, which will then be returned to Oak Hall. Oak Hall, in turn, will pass the unwanted material on to another company which will recycle it and turns it into a range of products including various types of carpet.