NRCC hosts Bay art show closing reception
Apr 19 2012
This is an archived article!
This article was published on Apr 19 2012 and was archived on Apr 20 2013. The information below may be outdated or inaccurate.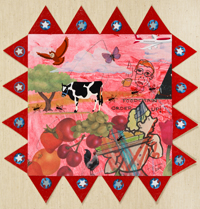 To mark the closing of Dr. Richard Bay's art show at New River Community College, a final preview party called "Small Gallery, Small Works, Small Mind? Naaaaah! New Work by Richard J. Bay" will be held on Friday, May 4, from 6 to 8 p.m. at the college's art gallery in Dublin.
Having displayed numerous works in collections and exhibits throughout the United States, Bay discussed his life, art and poetry with art and creative writing students during a presentation in early April.
"His presentation was marvelous," says Tammy Parks, NRCC professor of art. "The students didn't want to leave!"
As part of his visit, students in Laura Osborne's creative writing class collaborated with students in Parks' painting class to create a tribute to Dr. Bay. The creative writing students developed a poem based on recurring elements found in Bay's written and visual work, which the art students then incorporated into a colorful triptych art piece.
Bay, originally from Brooklyn, N.Y., has been a member of the Radford University Art Department for many years. He is the recipient of two Fulbright Scholarship awards and a Presidential Citation for Excellence in Education from the U.S. Department of Education.
Bay's eclectic works are currently on display in the NRCC Art Gallery in Godbey Hall. Gallery hours are Monday, Wednesday and Friday from 10 a.m. to 3 p.m. and Tuesday and Thursday from 1 to 5 p.m.