NRCC Phi Beta Lambda students win state leadership awards
Apr 11 2012
This is an archived article!
This article was published on Apr 11 2012 and was archived on Apr 12 2013. The information below may be outdated or inaccurate.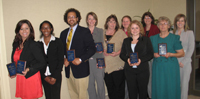 Seven New River Community College (NRCC) students recently took home awards at the Phi Beta Lambda (PBL) state leadership conference in Richmond. The students, who are members of NRCC's PBL chapter, competed against students from seven universities and six community colleges in areas ranging from business ethics to hospitality management.
Margie Tabor of Little Creek and Pamela Rutherford of Floyd won first place in business ethics with a case analysis of Bank of Floyd's challenge of the Sarbanes Oxley Act.
Kandice McClure, of Blacksburg, took second place in the Help Desk and Hospitality Management areas. Brittany Adams, of Christiansburg, received second place in Human Resource management and third place in Retail Management. Eric Rasmussen, of Pulaski, placed second in Marketing Analysis and Decision Making. Kaylynn Oliver, of Floyd, placed third in Accounting for Professionals and Lauren Phillips, of Snowville, placed third in Business Communications.
These students will compete at the national PBL Leadership conference in San Antonio, Texas, in June.
Future Business Leaders of America-Phi Beta Lambda is a nonprofit education association that helps prepare students for careers in business and business-related fields.