Dailey and Vincent to perform two shows at NRCC this month
Apr 05 2012
This is an archived article!
This article was published on Apr 05 2012 and was archived on Apr 06 2013. The information below may be outdated or inaccurate.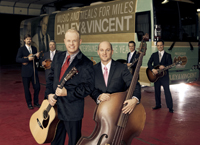 Bluegrass act Dailey and Vincent will be in concert at New River Community College (NRCC) in Dublin on Saturday, April 28. While the group has performed at the college in the past, this year will mark a major change as Dailey and Vincent will perform two shows - a matinee show beginning at 2 p.m. and an evening show at 7:30 p.m. Both shows will be held in Edwards Hall, room 117 at NRCC in Dublin.
Both men were raised in musical families and have played bluegrass music since they were children. Jamie Dailey has worked with Doyle Lawson and Quicksilver as lead vocalist, baritone and tenor singer, bass player, and guitarist and has recorded with Dolly Parton and Rhonda Vincent.
Darrin Vincent began playing and singing bluegrass music as a child with his family band, The Sally Mountain Show alongside his sister, Rhonda Vincent. He was a member of Ricky Skaggs and Kentucky Thunder and has performed and recorded with a multitude of artists including Dolly Parton, Nora Jones, Emmylou Harris, Earl Scruggs, Vince Gill, Keith Urban, and more.
Former Statler Brother Jimmy Fortune sings praises for Dailey and Vincent. He says, "These guys are for real, inside and out, and have some of the best harmony I've ever heard. They can flat out sing and pick! I'm their biggest fan."
Corporate sponsors of the Dailey and Vincent show at NRCC include CVS Pharmacy, Dublin; Pulaski County Patriot, Pulaski; Pepsi Cola Bottling Co.; King's Tire Service, Pulaski; WPSK Radio; Shoney's Restaurant, Dublin; Wade's Supermarket, Dublin; Pulaski County Chamber of Commerce and Trader's Emporium & Estate Jewelry Services, Dublin.
Tickets for the show are on sale now and may be purchased by visiting the NRCC Fiddle, Banjo and Dance Club website, www.nr.edu/fiddle . Tickets are also available for purchase at the Pulaski County Visitor's Center in Dublin and the NRCC Office of Workforce Development, located in Edwards Hall.
Advance general seating tickets are $15 each (online purchases incur a $1 transaction fee per ticket) for both shows.
Tickets will also be available at the door before each concert for $20 each. Doors open one hour before each show.