Dr. Richard Bay to present art talk, gallery show at NRCC
Mar 30 2012
This is an archived article!
This article was published on Mar 30 2012 and was archived on Mar 31 2013. The information below may be outdated or inaccurate.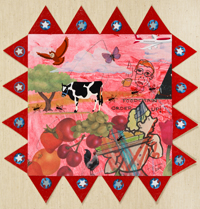 New River Community College will host a talk by local artist Dr. Richard J. Bay on Wednesday, April 4, at noon at the college's art studio in Dublin.
Bay, originally from Brooklyn, N.Y., has been a member of the Radford University Art Department for many years. He is the recipient of two Fulbright Scholarship awards and a Presidential Citation for Excellence in Education from the U.S. Department of Education.
Having displayed numerous works in collections and exhibits throughout the United States, Bay brings his unique perspective on creativity to NRCC first for an "art talk," during which he will discuss the life of an artist.
"Being a visual artist, for that matter any artist, is both a curse and blessing," says Bay. "We try to give answers to what others sometimes ignore and find ourselves then defending what others think we have said. Context is everything, we each bring our own to an experience and it is in that context we find our meaning."
As part of his visit, students in Laura Osborne's creative writing class are collaborating with students in Tammy Parks' painting class to create a tribute to Dr. Bay. The creative writing students have written a poem based on recurring elements found in Bay's written and visual work. The students also created a visual presentation that includes the poem surrounded by various media-based images.
The art students will develop their own collaborative piece using the creative writing students' work as a springboard.
Following Bay's talk, his eclectic works will be on display in the NRCC Art Gallery in Godbey Hall which will continue through May 10.