Art by Aislinn Lowry on display in NRCC Gallery
Mar 14 2012
This is an archived article!
This article was published on Mar 14 2012 and was archived on Mar 15 2013. The information below may be outdated or inaccurate.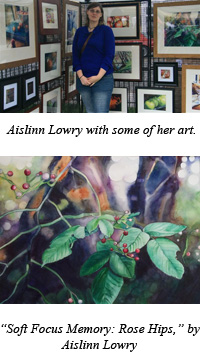 Watercolor works by local artist Aislinn Lowry are currently on display in the New River Community College art gallery located in Godbey Hall at the college in Dublin. Lowry's work will remain on display through Wednesday, March 28.
Art has been a central part of Lowry's life since childhood, with her education culminating in a Master of Fine Arts degree from Radford University in 2010. She currently teaches drawing and painting for Concord University in Athens, West Virginia, and also works at NRCC's New River Valley Mall site in Christiansburg. Lowry also teaches a variety of art classes through the Jacksonville Center of Fine Arts in Floyd, the Green Heron in Radford and lessons on an individual basis. Her work focuses on the way colors interact and how vision and light affect her subjects.
Lowry utilizes photographic techniques to compose her watercolors, but not with the intention of merely producing traditional, photo-realistic works. "The camera enables instantaneous modulation and distortion of the subject; it captures a conflation of realism and abstraction that I incorporate into my completed works," she says. "My goal is to create watercolors that elevate every-day objects and scenes by capturing a poignant balance of detail and ambiguity through paint."
In addition to watercolors she creates hand-painted silk scarves, jewelry, pastel paintings and metal wall sculpture.
Lowry's work has been exhibited in the Covington Fine Arts Museum, the Fine Arts Center for the New River Valley, XYZ Gallery in Blacksburg, the Green Heron Art Center, the Little Gallery in Moneta, Uptown Gallery in Richmond, and the Brooklyn Art Library in New York. Her paintings are also housed in the permanent collection of the Radford University Art Museum and in private collections across the East Coast, from North Carolina to New York.
The NRCC art gallery hours are Monday, Wednesday and Friday from 10 a.m. to 3 p.m. and Tuesday and Thursday from 1 to 5 p.m.