NRCC students visit Richmond legislators
Jan 26 2012
This is an archived article!
This article was published on Jan 26 2012 and was archived on Jan 27 2013. The information below may be outdated or inaccurate.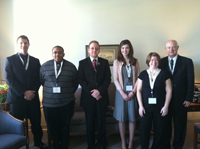 A delegation of New River Community College students, along with NRCC president Dr. Jack Lewis and Vice President for Workforce Development and External Relations Dr. Mark Rowh, recently visited Virginia legislators in Richmond as part of Virginia's "Every Day is Community College Day" program. They had the opportunity to talk with several Virginia lawmakers including Delegate Joseph Yost, who represents Giles, Montgomery, Pulaski Counties and the City of Radford. Pictured with Yost, center, are, from left Danny Hazelwood, S.J. Hubbard, Helen Cooley, Shannon McGlumphy and Dr. Lewis.