Upland Express and Buck Mountain Band to perform at January NRCC jamboree
Jan 03 2012
This is an archived article!
This article was published on Jan 03 2012 and was archived on Jan 04 2013. The information below may be outdated or inaccurate.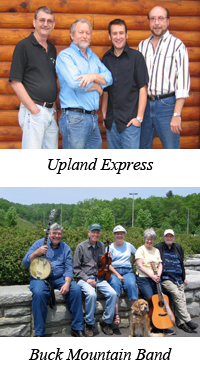 Upland Express and the Buck Mountain Band will perform at New River Community College's Fiddle, Banjo and Dance Club jamboree on Saturday, January 14, at 6:00 p.m. in Edwards Hall, room 117.
Upland Express began in 1974 as a bluegrass band, but has branched out to play a variety of styles including country and rock. Current band members include Barry Collins on banjo, bass and background vocals; Garry Collins on guitar, bass, lead and background vocals; Barry "BJ" James on lead and rhythm guitar and bass, and lead and background vocals; and Dara James on harmonica, guitar, keyboard and lead and background vocals.
The Buck Mountain Band takes its name from the mountain in Grayson County where two of its members reside. The group formed in 1999 at the Galax Old Fiddler's Convention. The award-winning band performs for dances in Applewood Music Park in Cana and the Floyd Country Store. They also perform regularly at the Blue Ridge Music Center in Galax as part of the center's "Mid-Day Mountain Music" program. Band members are Bob Taylor on fiddle, Dan Peck on banjo, Sue Taylor on guitar, Larry McPeak on guitar, Debbie Larson on bass, and Amy Boucher on banjo.
Corporate sponsors of the jamborees include CVS Pharmacy, Dublin; Pulaski County Patriot, Pulaski; Pepsi Cola Bottling Co.; King's Tire Service, Pulaski; WPSK Radio; Shoney's Restaurant, Dublin; Wade's Supermarket, Dublin; Pulaski County Chamber of Commerce and Trader's Emporium & Estate Jewelry Services, Dublin.
The doors open at 5 p.m. for the show. There is no charge for admission; however, donations will be accepted to help pay travel expenses for the musicians. The jamborees are held the second Saturday of each month through April at NRCC.
More information about the NRCC Fiddle, Banjo, and Dance Club is available from Roger Adkins at 674-3600, ext. 4307, and online at http://www.nr.edu/fiddle.