NRCC scholarship recipients honored in Charlottesville
Dec 14 2011
This is an archived article!
This article was published on Dec 14 2011 and was archived on Dec 15 2012. The information below may be outdated or inaccurate.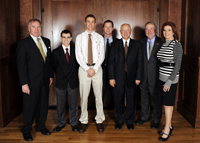 New River Community College students Anthony Turpin of Newbern, Joel McCormick-Goodhart of Christiansburg and Danny Hazelwood of Blacksburg were among 43 students from Virginia's 23 community colleges who were recently honored at a scholarship luncheon in Charlottesville.
Anthony Turpin received the Hiawatha and Beverly Nicely Commonwealth Legacy scholarship and Joel Mc-Cormick Goodhart received the Eva T. Hardy Commonwealth Legacy Scholarship. The Commonwealth Legacy Scholarship program was established in 2006 and recognizes students from across the commonwealth who have demonstrated academic excellence during high school as well as a commitment to developing their leadership skills. Each scholarship bears the name of one of many philanthropy leaders who support Virginia's Community Colleges.
Danny Hazelwood is one of 10 Valley Proteins Fellows. The program allows second-year students to participate in a unique curriculum designed to hone their leadership abilities, build community and develop a strong foundation for future success.
Turpin, McCormick-Goodhart and Hazelwood were also guests of the college at the recent NRCC board meeting, where they were recognized for their achievements.