NRCC Fiddle, Banjo and Dance Club receives Crooked Road affiliate venue designation
Dec 12 2011
This is an archived article!
This article was published on Dec 12 2011 and was archived on Dec 13 2012. The information below may be outdated or inaccurate.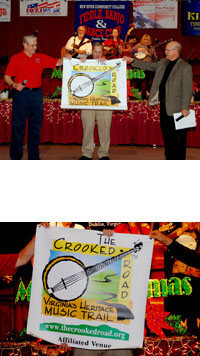 During its 20th anniversary year, NRCC's Fiddle, Banjo and Dance Club has been named an affiliate venue of The Crooked Road: Virginia's Music Heritage Trail. The Crooked Road organization describes affiliated venues as representing "the very best in authentic Crooked Road music and presenting a high-quality, community-oriented experience on a very consistent basis." The announcement was made at the college's annual holiday Jamboree before a crowd of about 500 bluegrass and old-time music fans.
Jack Hinshelwood (center), executive director of The Crooked Road, presented the official Crooked Road banner to Roger Adkins (left), director of the Fiddle Banjo and Dance Club, and Dr. Jack Lewis(right), NRCC president during Saturday's Jamboree. NRCC Jamborees are held the second Saturday of each month from October through April.