NRCC Fiddle, Banjo and Dance Club to receive recognition from Crooked Road at December jamboree
Nov 28 2011
This is an archived article!
This article was published on Nov 28 2011 and was archived on Nov 29 2012. The information below may be outdated or inaccurate.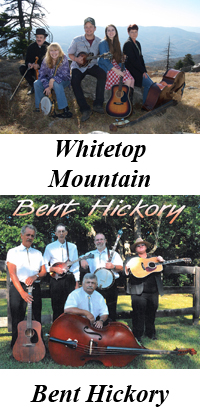 New River Community College's (NRCC) Fiddle, Banjo and Dance club will receive recognition from the Crooked Road at its annual Christmas jamboree on Saturday, December 10th at 6:00 p.m. at the college in Dublin.
In addition to performances by old-time family band Whitetop Mountain and bluegrass group Bent Hickory, the Club will be presented with a banner acknowledging them as an official Crooked Road Affiliated Venue. The Crooked Road Executive Director, Jack Hinshelwood, will make the presentation and club director Roger Adkins will be on hand along with NRCC's president Dr. Jack Lewis, to accept the award.
The Crooked Road organization describes affiliated venues and festivals as representing "the very best in authentic Crooked Road music and presenting a high-quality, community oriented experience on a very consistent basis."
"For 20 straight years the NRCC Fiddle, Banjo and Dance Club has been providing people with great bluegrass and old-time dance music in one of the most welcoming and friendly gatherings in the Crooked Road Region," says Hinshelwood. "We are proud to recognize this event as a Crooked Road Affiliated Venue."
Chances for a Martin DRS1 Dreadnought acoustic guitar will also be available, with the winner to be announced during the show.
Corporate sponsors of the jamborees include CVS Pharmacy, Dublin; Pulaski County Patriot, Pulaski; Pepsi Cola Bottling Co.; King's Tire Service, Pulaski; WPSK Radio; Shoney's Restaurant, Dublin; Wade's Supermarket, Dublin; Pulaski County Chamber of Commerce and Trader's Emporium & Estate Jewelry Services, Dublin.
The doors open at 5 p.m. There is no charge for admission; however, donations will be accepted to help pay travel expenses for the musicians. The jamborees are held the second Saturday of each month through April at NRCC.
More information about the NRCC Fiddle, Banjo, and Dance Club is available from Roger Adkins at 674-3600, ext. 4307, and online at http://www.nr.edu/fiddle .