NRCC basketball wins over Milligan College
Nov 22 2011
This is an archived article!
This article was published on Nov 22 2011 and was archived on Nov 23 2012. The information below may be outdated or inaccurate.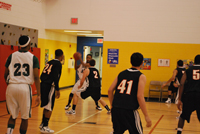 November 14, the New River Community College men's basketball club team took on Milligan College at home, with NRCC winning an exciting game 81-76. Here, NRCC player Jalen Koonce drives the ball in the lane, helping the Knights to victory.