Crossroads Station and the Bogtrotters to perform at annual NRCC Veteran's Day Jamboree
Oct 27 2011
This is an archived article!
This article was published on Oct 27 2011 and was archived on Oct 28 2012. The information below may be outdated or inaccurate.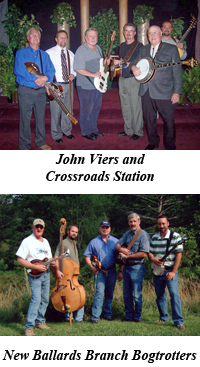 John Viers and Crossroads Station and the New Ballards Branch Bogtrotters will be featured performers during New River Community College's Fiddle, Banjo, and Dance Club Jamboree on Saturday, November 12. The bands will perform during the annual Veteran's Day show beginning at 6:00 p.m. in Edwards Hall at NRCC in Dublin.
Crossroads Station is a gospel bluegrass band from the New River Valley. Members include John Viers on banjo, guitar and vocals; Barry Montgomery on guitar and lead vocals; Olen Smithers on mandolin and vocals; Larry Lindsey on guitar, mandolin and vocals; Guy Dalton on bass, guitar, and vocals and Ricky Phillips on dobro, guitar, and vocals.
The New Ballards Branch Bogtrotters band takes its name from the original Galax based Bogtrotters, who won the first ever Galax Old Time Fiddler's Convention in 1935. The modern-day old-time group includes Leon Frost, mandolin and vocals; Jesse Morris, bass; Eddie Bond, fiddle and vocals; Dennis Hall, guitar and John Ellis, banjo. The band has played at festivals across the U.S. and also participated in the Friends of American Oldtime Music and Dance Festival in Gainsborough, England.
In addition to recognizing the service of all military veterans, this year's Veteran's Day show will highlight the sacrifices made by military families and will include special recognition of families of veteran's from World War II, the Vietnam War, the Korean War and the Iraq and Afghanistan wars. Also participating will be the Giles County Veterans of Foreign Wars (VFW) color guard and the Pulaski County VFW Honor guard.
Chances for a Martin DRS1 Dreadnought Acoustic-Electric guitar will also be available at the November and December shows with the winner to be announced on December 10.
Corporate sponsors of the jamborees include CVS Pharmacy, Dublin; Pulaski County Patriot, Pulaski; Pepsi Cola Bottling Co.; King's Tire Service, Pulaski; WPSK Radio; Shoney's Restaurant, Dublin; Wade's Supermarket, Dublin; Pulaski County Chamber of Commerce and Trader's Emporium & Estate Jewelry Services, Dublin.
The doors open at 5 p.m. There is no charge for admission; however, donations will be accepted to help pay travel expenses for the musicians. The jamborees are held the second Saturday of each month through April at NRCC.
More information about the NRCC Fiddle, Banjo, and Dance Club is available from Roger Adkins at 674-3600, ext. 4307, and online at http://www.nr.edu/fiddle .