Adam McPeak and Mountain Thunder, Crooked Road Ramblers perform in NRCC Jamboree season opener
Sep 29 2011
This is an archived article!
This article was published on Sep 29 2011 and was archived on Sep 30 2012. The information below may be outdated or inaccurate.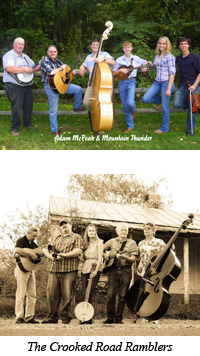 The opening show of New River Community College's (NRCC) Fiddle, Banjo and Dance Club Jamboree season will be held on Saturday, October 8. The show will begin at 6:00 p.m. in Edwards Hall at NRCC in Dublin.
Adam McPeak and Mountain Thunder are from Virginia and are composed primarily of young bluegrass musicians, with 15-year-old mandolin player Adam at the helm. Mike McPeak, Adam's father, plays guitar, 16-year-old Marlon Dean plays fiddle, 13-year-old David Chrisley plays bass, and 15-year-old Lindsey Jackson sings lead and harmony vocals. David Chrisley's father Steve Chrisley, plays banjo.
The Crooked Road Ramblers are from Virginia and North Carolina and play traditional old-time dance music. The members of the band are Kilby Spencer on fiddle, Amanda Spencer on banjo, John Perry on guitar, Donald Hill on guitar and vocals and Karen Carr on bass and vocals.
Chances to for a Martin DRS1 Dreadnought Acoustic-Electric guitar will also be available at the October, November and December shows with the winner announced on December 10.
Corporate sponsors of the jamborees include CVS Pharmacy, Dublin; Pulaski County Patriot, Pulaski; Pepsi Cola Bottling Co.; King's Tire Service, Pulaski; WPSK Radio; Shoney's Restaurant, Dublin; Wade's Supermarket, Dublin; Pulaski County Chamber of Commerce and Trader's Emporium & Estate Jewelry Services, Dublin.
The doors open at 5 p.m. for the show. There is no charge for admission; however, donations will be accepted to help pay travel expenses for the musicians. The jamborees are held the second Saturday of each month through April at NRCC.
More information about the NRCC Fiddle, Banjo, and Dance Club is available from Roger Adkins at 674-3600, ext. 4307, and online at http://www.nr.edu/fiddle .